Payoneer has a Debit Master Card service of  "The Bank of America", Jis k through aap worldwide kisi bhi place se cash withdraw karwa sakty han. You know, Visa card ya debit card country wise hi use hoty han, Pakistan k bohut se local banks k card other countries me work hi nai karty, Isi liye mostly Visa cards Online shopping k liye use karty howe error create kar dety han.
Payoneer k through aap bohut se big online ya offline store se shopping kar sakty han. Kuch online stores esy bhi han jo add to card me checkout k liye payoneer card ki option hi provide nai karty, Esi condition me other options me paypal bohut popular hai, So paypal ka account create kar k us me payoneer master card se balance load kar k paypal k through aap shopping kar sakty han.
worldwide or especially us based companies like; Google, Click-bank or daily-motion etc. aap ki services k against PayPal me easily cash transfer kar deti han. Ye sub btany ka purpose sirf ye hai k aap ko clear ho jae k online working k liye PayPal or PayPal k liye payoneer card kitna important hai, So here we're providing a step by step guide for you to get payoneer Master Card in Pakistan without hire a person.
How to Get Payoneer Master Card:
Payoneer Us based company hai jo 2005 me establish hoe thi, Jis k bad apni services k waja se itni popular hoe k ab payoneer ka Master Card Pakistan jesy third world country me bhi bohut se people use kar rahy han.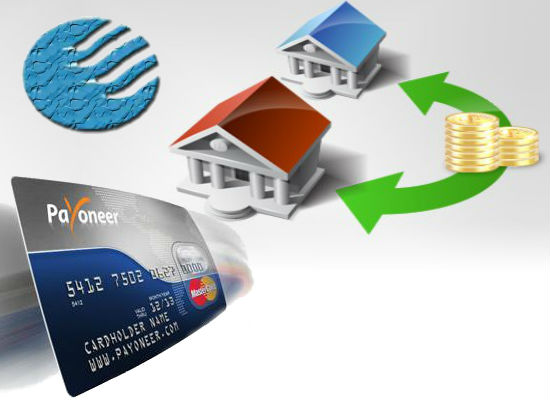 Pakistan me mostly people to sirf is waja se payoneer card use kar rahy han k PayPal Pakistan me block hai or payoneer card k through PayPal verify ho jata hai or money easily add or withdraw ki ja sakti ha. Payoneer card me pesy aany k bad aap kisi bhi esy country ki local ATM se withdraw kar sakty han, Jahan payoneer ki services available han, Mery khyal me Pakistan me sirf MCB or Standard Chartered hi is ko recognize karty han, Kisi bhi other ATM me card insert karty hi "unknown host" error display ho jata hai.
Payoneer Master Card hasil karny k liye, Payoneer ki official site par account create kiya jata hai, Jis ka ek big advantage ye bhi hai k Is k through bank of america ka account bhi mil jata hai, Jahan aap US Based Companies se apni services k against easily payments receive kar sakty han.
To Get Your Payoneer Card with $25 Bonus Just: 

Payoneer ka web account free or easily create ho jata hai, but payoneer team se card approve karwany k liye aap ko apna source of income btany k sath sath identification ko bhi verify karna hota hai.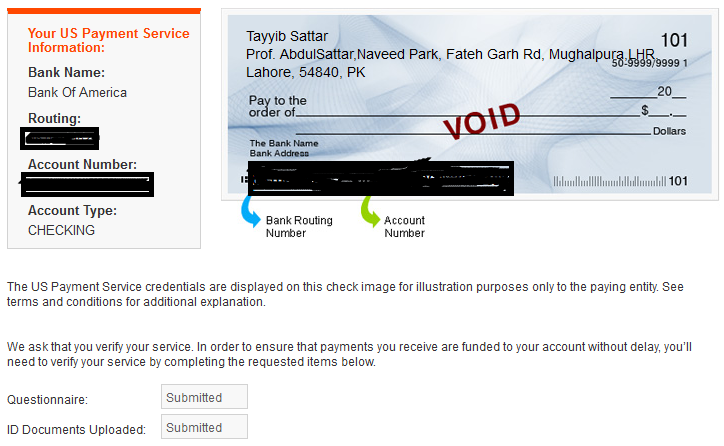 Is purpose k liye apna correct Source of Income btaen or Personal NADRA ID Card scan kar k submit karen. After some days, Payoneer team will approve your identity and shipped a MasterCard at your given address.
How to Activate Payoneer MasterCard?
After Approved Your Card by Payoneer Team, They shipped it at your address and provide an estimated delivery time (Which is mentioned at the place, when you click at Activate button).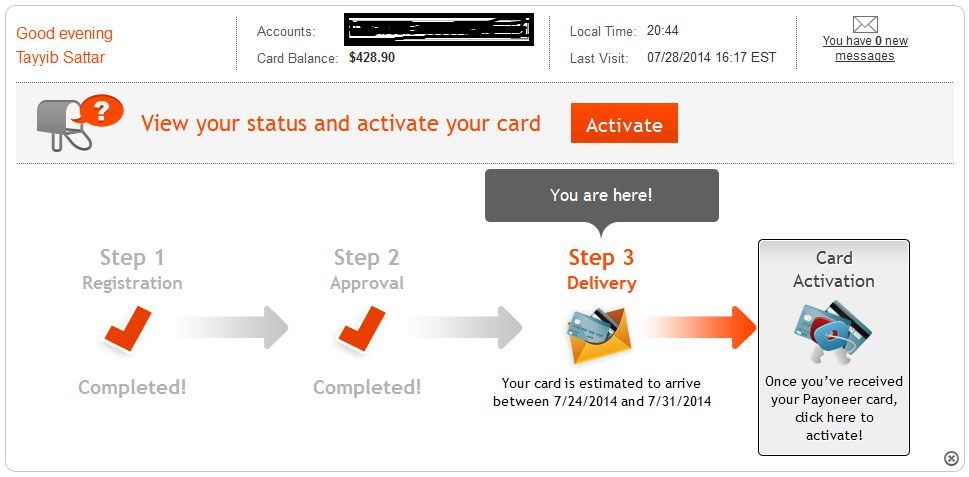 When you received your Payoneer MasterCard, Just go to Payoneer Official Site >> Login >> Click at Activate Button >> Card Activation.
In the Next windows, You've to enter your Payoneer card and 2 time 4 digits of your personal pin code. (Be careful' You've to enter this pin to access your card through ATM).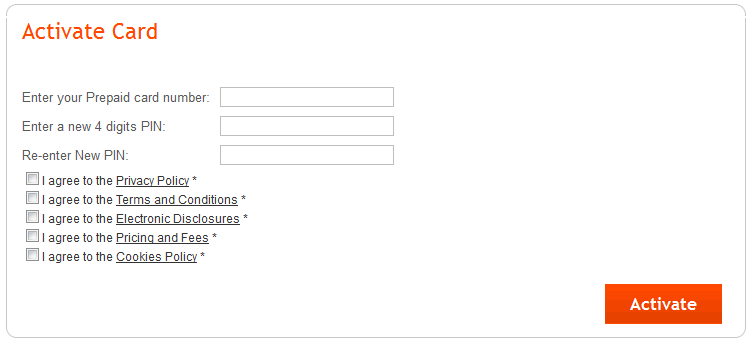 Check all the check box and Click Activate button, Your card will be activate.
Now you can send request to any US based company, So that they pay you against your product or services via your account of the bank of America.
How to Transfer funds from Card to Card:
Payoneer k ek Card se other MasterCard me money transfer karna bohut easy, simple or free hai, All you need is to go>>  Send payments>> Another Payoneer Account Holder.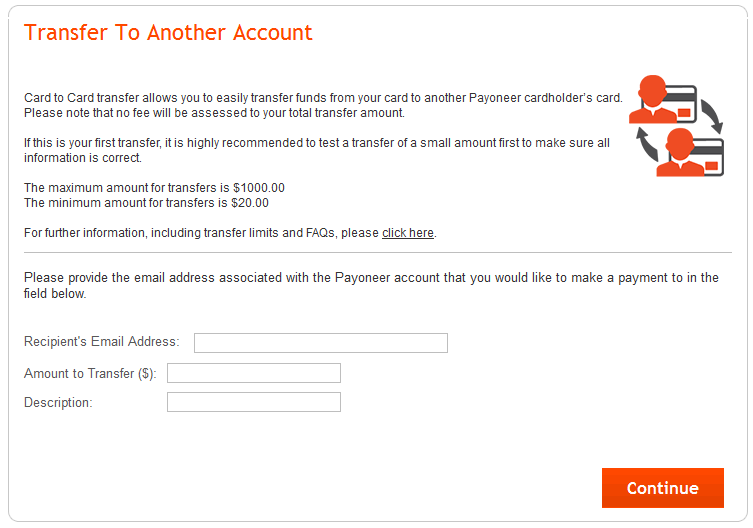 In this page, Just enter email id of another Payoneer Card Holder Account, exact amount to send and click continue.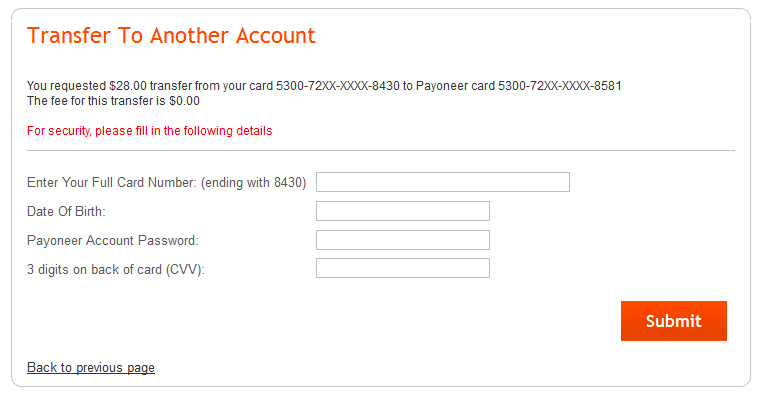 At the next page, Enter your full card number, date of birth, Payoneer account password, 3 security digits pasted on the back of your card and submit.
Your entered amount will be send suddenly. You've done.
Author's View:
In April, 2010, I start online store and after some time, I felt the necessity of PayPal account, So I searched a registered company, who provide me a legal PayPal verified account in Pakistan, but I cannot find a single one, So I gave this task online to a person, who charge $15 to provide a verified PayPal account. He created a PayPal account for me, but could not verify it.

Then I searched the methods at Google to Verify PayPal account in Pakistan, In which Payoneer MasterCard was a simple and easy way, So I created myself a payoneer account, verified personal identity and after some days, I received my Payoneer MasterCard at my address.
I activated it and used to verify PayPal account. Now I use it to quick add and transfer funds from PayPal, but Is method me €2.00 EUR charge hoty han. Agar PayPal se bank of America ka account attach kar k money transfer ki jae to free of cost 3 to 4 business days me pesy transfer ho jaty han.
Learn More: How to Get Verified & Withdraw Money from PayPal in Pakistan
Brief Introduction of Payoneer Card:
At the end, I want to clear your mind that Overall, Payoneer MasterCard is very expensive service especially in Pakistan, Let See;
PayPal fee for fund transfer to MasterCard = €2.00 EUR (1-2 business days)
PayPal fee for fund transfer to Us bank = Free (3-4 Business Days)
Payoneer fee for fund accepting = $1 /$100 USD.
Payoneer MasterCard Annual fee = $29.95 USD
Payoneer Master Card to Card Transfer fee = Free
Payoneer MasterCard Withdrawal from Standard Chartered = 300 PKR / transaction
Payoneer MasterCard Withdrawal from MCB = 200 PKR / transaction
Jab me ne Payoneer card Muslim Commercial Bank me use kia to ATM ne $2 pin enter karty hi charge kar liye, Me ne balance check karny ki koshish ki par un ka software itna updated nai tha, Is liye balance unknown show howa, Ab muje idea to tha k mery account me kitny US dollars han, but ATM ne to PKR me withdrawal karna tha, Jis me ATM ki fee bhi include thi, Is liye Jab me ne withdraw k liye amount enter ki to ATM ne "No more requested balance" ka error dy kar card eject kar diya, Me ne Card ATM me again insert kiya, pin enter ki to ATM ne 200 PKR mazeed charge kar liye, Ab me ne accuracy se apny total balance se $10 kam hi put kiye to ATM ne cash withdraw kar diya.
Next time, When I received another payment in my card, I thought k MCB ka software updated nai, Is liye Standard Chartered gya, ATM me apna Payoneer MasterCard insert kiya, Pin enter ki to ATM ne message diya k ek transaction k against aap k 300 PKR charge kiye jaen ge, Me ne usy continue kar diya. Next page par ATM ne all options provide kar din, Ab phir muje apny account me received total US dollars ka idea to tha, but exact PKR ka pata nai tha, Me ne balance inquery se balance check kiya to ATM ne muje PKR me exact amount btae or us ki slip bhi provide kar di, Ab me apni exact amount withdraw karna chahta tha, but ATM ne mera card foran hi ejact kar diya. MasterCard again insert kar k pin enter ki to 300 PKR more charge kar liye gae, but muje is ka idea nai howa, Me ne apni cash inquiry slip par exist amount withdraw k liye enter ki, Jis ko insufficient balance keh kar reject kar diya gya or sath hi ATM card bhi ejact ho gya.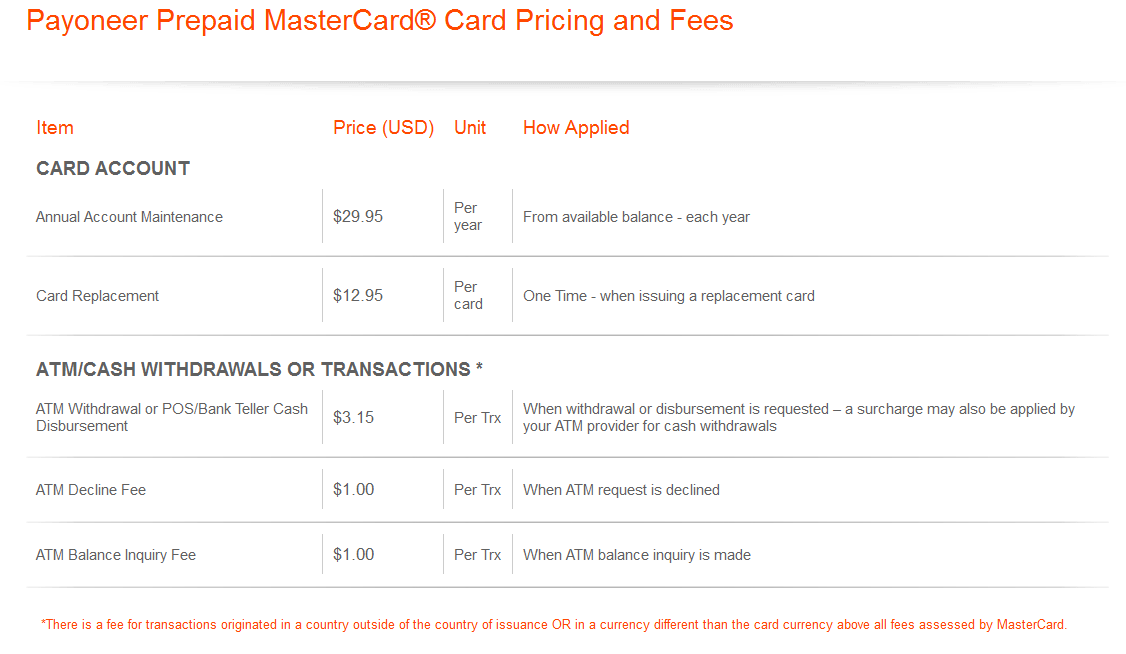 Muje itna shock laga k me ne money withdrawal ka plan hi pending kar diya. Now I come to my home, check the exact balance in my Payoneer Debit card, Convert it to PKR. After that, I minus the ATM withdrawal fee and 500 more for my safty from my PKR balance and write it at a slip. Now I go to MCB, Insert Card, Enter the pin code and put accurate PKR balance, Now ATM withdrawal the cash without any tension but charge only 200 PKR.
I think that this is not fair for PayPal to block its services in Pakistan and because of  extra Payoneer fee and ATM charges for the people, who earn this online money after doing work hard, but then I think, These are our own mistakes, Which we've to face in future. Are you understand what I want to say and agree with me???
At this situation, Ab me USD ko PKR me convert kar k us me ATM ki fee 500 minus karta hon, kyun k ATM ki base amount 500 hoti hai, Is k bad me MCB ATM se maximum utna cash withdraw karta hon, Jitni ATM ki maximum limit hoti hai, kyun k single deposit par 200 fee to deni hi parhti hai, Is liye Aap ko hamesha yad rakhna chahye k apny card me maximum cash jama kar k ek hi bar withdraw karwaen, Agar aap k card me $10 se $20 aaen han to usy withdraw karny ki koshish na hi karen, kyun k Mery ek friend k MasterCard me fiverr par services provide kar k total $10 USD jama ho gae, Wo apny friends ko sath le kar ATM par gya, Jahan wo un ko dikhana chahta tha k usy foreign se dollars aae han, Jab us ne apna
Payoneer MasterCard
insert kiya to confuse ho gya kyun k ATM par withdraw PKR me tha, Anyway, us ne apny USD ko convert kar k PKR me almost 900 amount withdraw k liye enter ki, ATM ne error message diya k apni amount 500 ki sum me enter karen or card eject kar diya, Us ne card again insert kiya or us me 1000 enter kiya to "insufficient balance" k error k sath hi card eject ho gya, Us ne card again insert kiya or withdraw k liye amount 500 enter ki, Is bar bhi error message aaya or Card eject ho gya, Us ne Card dobara insert kiya or balance check kiya, ATM Machine MCB ki thi, Jis ne balance unknown show kiya, Ab wo apny friends se excuse kar k gar aaya or Payoneer site par login ho kar apny account me check kiya to remaining balance $4 tha. I just want you to don't do a mistake like that.
In short, Payoneer will be charge extra 200 PKR as atm machine fee in balance checking or transaction fee from Standard Chartered, City Bank, Muslim Commercial Bank and some main branches of Faisal Bank Ltd at per maximum transaction of 20,000 PKR. I have found it so expensive and shared with you, So that You are not to be trapped.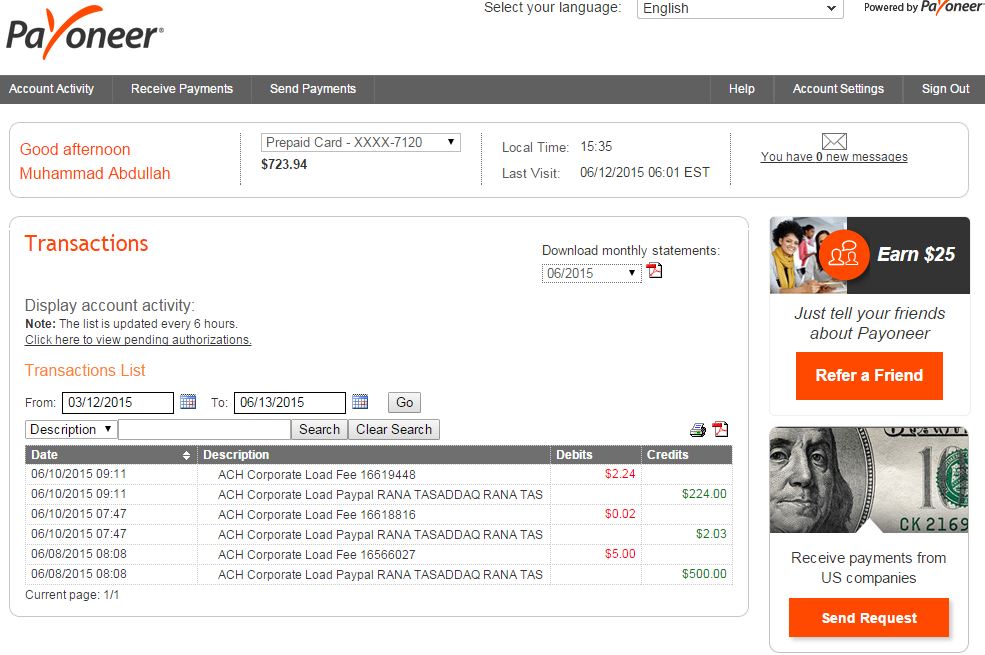 I know, Some people want to transfer more than 20,000 PKR from Payoneer card, So I suggest for them to use Samba bank, Which recently has offered its atm machine for payoneer withdrawal without any extra atm machine fee, So you can withdraw 20,000 in single transaction with maximum 9 time in a day, Which through you can get more cash at you hand as mentioned bellow;
20,000×9= 180,000 PKR / day
Payoneer Card withdrawal limit = 250,000 / day
You can spend rest money at worldwide online stores. Cheers!
Please mention, If you're facing any problem about your card or transaction, Please share us. We'll try our best to solve your issue, Which will helpful for many other bloggers.