Easy Recovery damaged, failed, corrupted or inaccessible secondary storage media se data recover karny k liye process karta hai.Aksar internet,external hard disk drives,solid state-drives(SSD),Usb flash drives,Cd's,DVDs,Raid,Memory card,storage tapes or kuch doosri electronic devices me normally data access nahi hota.Kisi bhi operating system k through data access na hony ki 2 reasons hoti hain.
1. Physical damage of the storage devices
2. Logical damage to the file system
1st situation me storage devices ko some data recovery scanning machines k sath attach kar k data recover karwaya jata hai.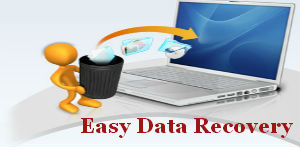 ye machines market me commonly available nahi hain kyun k un k price kafi zyada hai, So that you have to contact any professional person to recover your data who charge a huge money from your pocket.
2nd situation me storage devices ko some data recovery scanning software k sath attach kar k data recover karwaya jata hai.
There are many software but yahan hum market me commonly available data recovery software ki baat karty hain.
1.Boot able/Live CD
You can buy hiren boot cd from any cd shop to run a live windows xp and then you can recover any data from your hard drive and save it to attached usb drive.
2.Get Data Back for FAT/NTFS
Get data back is a popular recovery software to recover data from external or internal hard drive.you can use it very easily with its license. Its a best tool from all others, So you can download here;

3.Ease US Data Recovery
It is a professional Tool you will like after use it.
4.Disk Digger
Disk Digger is simple but powerful tool to recover any deleted file at your storage devices for free and you don't need any Internet connection to Restore.
5.Captain Nemo
Captain Nemo is latest data recovery software which you can access all your data from any Novell, NTFS or Linux drive but you need its $90 license.
6.Drive Image XML
Drive Image XML is easy to backup and restore for windows.Using it you don't need to install windows after its corruption.
7.Drive Vaccine
Drive Vaccine is a windows based software which you can automatically Restore windows after only one Reboot.people use it for Colleges, E-Libraries, internet cafe and other places like that.
8.Recover my files
It is a data recovery software which you can recover losted,deleted,formatted or corrupted files from any formats of hard drive or other storage devices.
9.Tokiwa Data Recovery
It is a light data recovery software find and recover any file at your hard disk which is built by Tokiwa corporation.It is free So you do not need any license version.
10.On track easy recovery
Ontrack easy recovery is a best free easy recovery software which you can recover all kind of your data. It is available for windows and Mac.
11.Ashampoo Undeleter
Ashampoo undeleter is another data recovery tool which recover your deleted files and you can Restore it with full registered version.You can buy it at affordable price.
There are many other software,freeware and tools to recover lost data from you storage devices but these are best.
Enjoy!

---