Google Online business me, Na sirf traffic generate karny me balky online earning k liye bhi sub se top ka player hai. Google bohut si online services offer kar raha hai, like; Every country has different Google Search Engine, G-mail, Google News, Earth, Online Map, Docs, Talk, Plus, Picasa, Youtube, Blogger etc. But Sochny ki bat ye hai k Google kis tarha pori dunya me sub se zyada online earn kar raha hai, So let's see.
You are know k Google all over the world sub se Top Rank Search Engine hai kyun k Google team ne searching result me standard roles create kiye han jis k through top result usi site ko diya jata hai jo us ki sahi haq-dar ho, Google se zyada acha search result any other search engine provide nahi karta, So people search at Google with blind eyes because they trust it, Google par all over the world search k liye aani wali traffic ki waja se bohut si national or multinational companies ne Google ko apny ads deny shuru kar diye. After Some times Google ko itny zyada ads order hony lagy k manually un sub ko handle karna possible nahi raha, So Google ne 23 October, 2000 ko Ad-word k name se ek Online Advertisement Service start kar di, ab starting me to Google ads ko apni site par hi display karwata tha, User search karty howe ads par click kar k advertiser ki site par jump kar jata tha, but jab Google k pas Advertiser companies k order zyada howe to un k ads ko Google par display karwana possible na raha, So Google ne 18 June, 2003 ko Ad-Sense k name ek Ads Publishing service start kar di.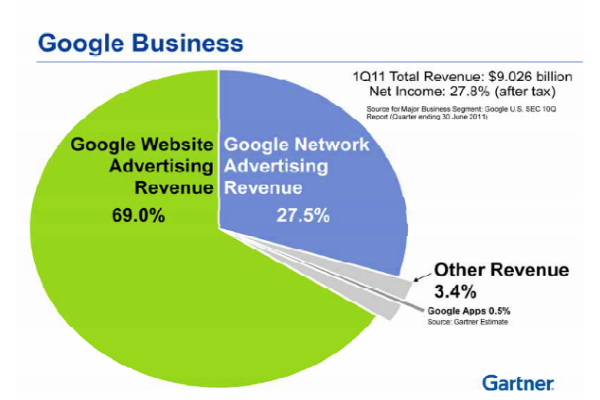 Mostly Quality sites(with Unique contents) Google Ad sense k through publisher companies k ads ko apni site par display karti han or Pay per click Online Earning karti han. But Real me Google is earning with its twice hands, First Ad-word and Second is Ad-sense. Actually Google Ad word k through different companies se Ads le kar un se jo earn karta hai wo Ad sense k through Quality sites par ads display karwa kar un ko per click apna Commission nikal kar deta rehta hai, Is tarha Google ne 2012 me Ad-Sense se $9.71 billion or Ad-Word se $42.5 billion earn kiye. Google ki main earning Ad Word se hai, So Let See a brief report of Ad Word.
Google Ad Word:
Google Ad-word par different ads ki price change hai like; software, online store, health corner, insurance, trading, rent a car, online games or other services k different ads ki price different han. Here are the most expensive keywords at Google Ad-Word.
     Insurance  (Cost per Click = $54.91)
     Mort-Gage  (Cost per Click = $47.12)
     Loan  (Cost per Click = $44.28)
     Attorney  (Cost per Click = $47.07)
     Lawyer  (Cost per Click = $42.51)
     Credit  (Cost per Click = $36.06)
     Degree  (Cost per Click = $40.61)
     Donate  (Cost per Click = $42.02)
     Web Hosting  (Cost per Click = $31.91)
     Conference Calls  (Cost per Click = $42.05)
     Claim  (Cost per Click = $45.51)
     Trade  (Cost per Click = $33.19)
     Recovery (Cost per Click = $42.03)
     Software  (Cost per Click = $35.29)
     Transfer  (Cost per Click = $29.86)
     Cord Blood  (Cost per Click = $27.80)
     Gas/Electricity (Cost per Click = $54.62)
     Online Classes  (Cost per Click = $35.04)
     Treatment  (Cost per Click = $37.18)
Ye Google Ad Word k top rated keywords han Jin k ads Google ko deny se SEM (Search Engine Marketing) upgrade ki ja sakti hai, but Cost per Click very high pay karna parhy ga, Jo koi bhi company zyada period tk pay nai kar sakti, So although SEM is a better way but Seo (Search Engine Optimization) is the best Way to generate more traffic for your site. Google Ad-Word ki minimum bid 5 cent or maximum bid $54 per click hai, Jab k Google per Click Maximum $50 earn kar sakta hai.
---