Inpage ek Word Processor or Page Layout application hai, Jo Concept Software ne 1994 me develop kiya tha.
In the beginining, Ye Software Urdu language me koi page create karny k liye use kiya jata tha, kyun k is me sirf  Urdu k font add kiye gae thy, but ab ye Urdu, Pushto, Arabic or Persion or isi tarha ki other language write karny k liye use kiya jata hai, kyun k ab bohut se fonts add kar diye gae han. Inpage home or professional donon purpose k liye use kiya jata hai, Jis ki waja ye hai k sirf urdu k hi almost 2000 fonts add kiye ja chuky han, Is k ilawa ye Microsoft k all Operating Systems k sath compatible hai.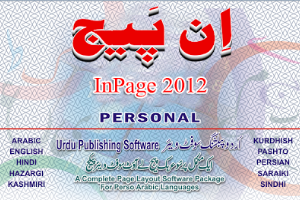 Inpage se Urdu language corel draw ya Photoshop me to easily put ki ja sakty hai, But ab Inpage ka unicode version bhi market me available hai, Jis k through aap inpage me write ki gae urdu ya other language ko Msword ya isi tarha k other program me bhi accurately open kar sakty han. Mazy ki baat to ye hai k ab Is me aap koi sa font create kar k ya internet se download kar k khud bhi add kar sakty han.
Aaj kal Urdu k jitny newspaper, magzine, books ya digest publish ho rahy han, Un ki primary soft copy inpage me hi create hoti hai.
At the End, Aap k liye ek Surprise hai k Urdu likhty howe ab hath nai aap k hath nai toten ge, Keyun k Concept Software buhut jald Inpage OCR (Optical Caractor Recognition)bhi develop kar raha hai, Jis k through kisi bhi printed Urdu ka scanned image le kar editable text me convert kiya ja sakta hai.
Now You can Learn Inpage Complete Video Tutorials in Urdu & Hindi to manage Asian Languages at internet.
This Video content has copyright and Getting from: Onlineustaad.com, Don't publish without any permission.