Watermelon (Tarbooz) ka Scientific name Citrulus Ianatus hai, Is ki taseer bohut hi sard hai. Is liye winter season me isko khany se heza ho skta hai. Tarbooz men Protien , Strolien , Vitamen A , B , C , Iron  aur Sugar hai. Pehly Ye dark green color me hota tha lekin ab isky seed me changing krny k bad light green color me bi grow kia jata hai jis ki quality bi zyada better hai. Watermelon k bohut se faedy hain, Allah k Nabi (SAW) taza pakki khajoron ke sath tarbooz khaya krty thy. Summer season me log watermelon ko Fridge me rakh kr chill krty han or phir cut kr k bohut shoq se khaty han. Watermelon ka juice bna kr bi piya ja sakta hai lekin tarbooz me 95% water hota hai to mostly is ko cutting krty howe hi bohut sara juice nikal jata to is waja se specially iska juice km hi bnaya jata hai.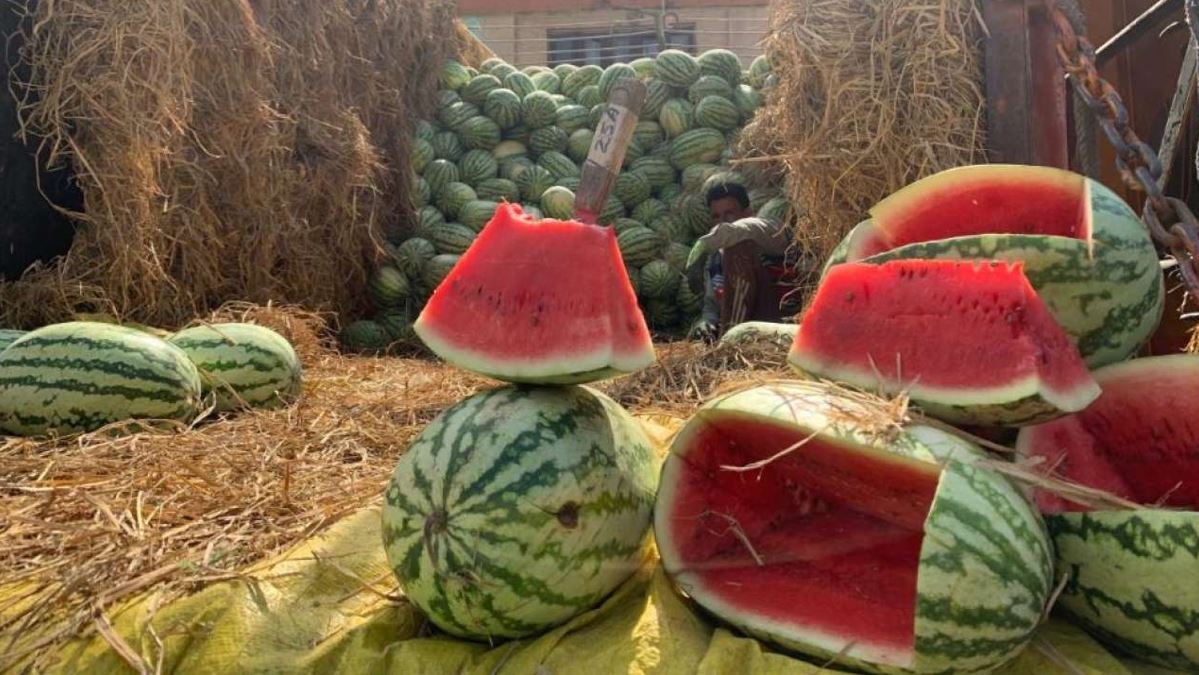 Watermelon (Tarbooz) in Islam:
Bohut si Hadith me tarbooz ka zikar milta hai, as given bellow;
Hajrat ayesha (Ra) farmati han k Nabi (SAW) tarbooz ko tar khajoor k sath mila kar khaya karty thy or farmaya karty thy "Hum khajoor ki garmi ko tarjooz ki thandak se or tarbooz ki thandak ko tarbooz ki garmi se torty han".
Tarbooz (Watermelon) Health Benefits:
Watermelon has many health benefits for human body, Especially Best for Health in Summer season, Kyun k ye body ko garmi se bachata hai. Tarbooz Bladder aur kidney ka stone nikalta hai, Pait  saff krta hai, Fever men is k juice men sirka mila kr den, Faeda ho ga. Isy khany se chehry ka worm theek ho jata hai. Immunity system strong hota hai or Diabetes k mareez bhi isy kha skty hen.
Nahayat Sard taseer ki waja se summer season me stomach ko garmi se bachany me Tarbooz bohut hi mufeed hai. Shadeed sir dard men is k juice men cheeni mila ker pilaen, Dooran-e-khoon theek ho jata hai, Blood Pressure kam karta hai, Khushk Khansi men beej ka maghz khaen. Is k ilawa ye Sill Aur Diq men mufeed aur badan ki garmi door krta hai.
Weham, Waswasa or Neend na aany ki soorat me Tarbooz k juice men misri mila ker rakh den aur subha pee len, Shuroo chand se 21 din tak faida ho ga.
Is k ilawa, Tarbooz bohut si doosri bimaryon me bhi mafeed hai, such as; Chakkar ana, Dill  ghabrana wagera me bohut mufeed hai, Esi condition me Stone me Beej 10 Garam ghot ker pilaen. Juice men cheeni aur sirka mila ker peny se sozish door ho jati hai, Same yehi nuskha Sozish, Hepatitis or typhoid men bhi mufeed hai.
Tarbooz sirf garmyon ka hi phal nai balky qudrat ki taraf se insan k liye kisi nemat se kam nai, Jahan tarbooz khany se lazeez hony k sath sath jism me pani ki kami ko bhi poora karta hai wahin ye bohut si bimaryon se bachao ka baes bi banta hai. Mahireen k mutabiq tarbooz jild ko tarotaza rakhny k sath sath garmyon me jild ki nami ko bi barqrar rakhta hai.
Tarbooz k ek cup juice me almost 25% vitamin C hota hai, Vitamin C skin ko soft rakhta hai or apny andar mojood Antioxidant ki waja se body ki defense power ko bhi increase karta hai.
Tarbooz bohut si types k cancer k against bhi mufeed hai, Tarbooz ka istemal body me esy Antioxidant ki tadad ko increase karta hai, Jo different types k cancer ko body me peda hony se rokta hai.
Tarbooz me vitamin B bi kafi miqdar me hota hai, Jo jism se thakawat ko khatam karta hai.
Tarbooz me Vitamin A ki bi kafi miqdar hoti hai, Jis ko khany se nazar bi teez hoti hai or hum aankhon ki bohut si bimaryon se bi mehfooz rehty han.
Tarbooz me Amino Acids bi kafi miqdar me hota hai, Jo high blood pressure ko control karny me help karta hai.
Tarbooz heart, Damma or motapy k patients k liye bohut hi mufeed hai.
Esy log jin ko urea problem ho un ko Tarbooz zyada se zyada khana chahye kyun k ye body se ammonia ki miqdar kam karta hai. Is k ilawa ye blood pressure k ilaj se bi bohut mufeed hai, Kyun k is se body ki all veins clean ho kar achy tareeqy se kam karny lagti han.
Tarbooz k beej (Watermelon Seed) heart k sath sath diabetes or skin k liye bi bohut mufeed han. Ek search k mutabiq tarbooz k beej me shamil iron, potassium or vitamin hair ko strong karta hai or face par mojood dagh or dabby door karny me madad deta hai. Mostly people tarbooz me se beej nikal kar phenk dety han, Kyun k wo is k benefits se waqif nai hoty.
No doubt Tarbooz ek meetha or farhat bakhsh fruit hai, Jo qabaz kusha or garmi ko door karny wala hai.
Watermelon (Tarbooz) For Skin:
Tarbooz ka pani face k masamat ko close karny me kafi mufeed hai, Isy natural toner bhi kaha jata hai.
Tarbooz ko achi tarha pees kar face par 10 minutes lgaen, phir wash kar len, Ye aap k face ko andar tak fresh kar de ga or face ko clean bi kar de ga.
Tarbooz or banana ko achi tarha pees kar skin par lgany se dry skin oily ho jati hai, Jis se fresh lagny lagti hai.
Dahi or Tarbooz ka mask oily skin k liye bohut hi mufeed hai, Kyun k dahi or tarbooz me mojood lactic acid face k skin k liye bohut mufeed hoty han. Ye chiknai ho jazb kar k face ko khobsoorat bnata hai.
In fact, Tarbooz summer season me hamary liye ek gift se kam nai hai, Kyun k ye summer season ki 70% diseases ko khatam kar deta hai.
Keywords:
Water melon, watermelon in urdu, watermelon for skin, benefits of melon in urdu, watermelon benefits for skin in urdu, tarbooz ke fayde, tarbooz ke faide in urdu, tarbooz ke fawaid in urdu, tabooz for health, tarbooz health benefits, tarbooz ka sharbat recipe in urdu, tarbooz ke faide in hindi, tarbooz ke faide in hindi, tarbooz in english, tarbooz benefits in hindi, tarbooz in hindi, benefits of tarbooz seeds, tarbooz in Urdu, tarbooz ka faida, tarbooz k faide, tarbooz ke fawaid
---