Microsoft released Windows 11 on Oct 5, 2021 with key features including the better support for virtual desktops and a repositioned Start button with ability to run Android apps so If you want to upgrade from your existing Windows 10 operating system to Windows 11, you should check your PC compatibility with Windows 11 before starting installation. There're minimum system requirements for installing Windows 11 on your PC So If your device does not meet these requirements then you may not be able to install Windows 11 on your device and might want to consider purchasing a new PC. If you're unsure whether your PC meets these requirements, you can check your PC Original Equipment Manufacturer (OEM) or if your device is already running Windows 10 then you can use the PC Health Check app to assess compatibility requirements. Please note that this app does not check for graphics card or display as most compatible devices will meet those requirements which can be check on Microsoft Site.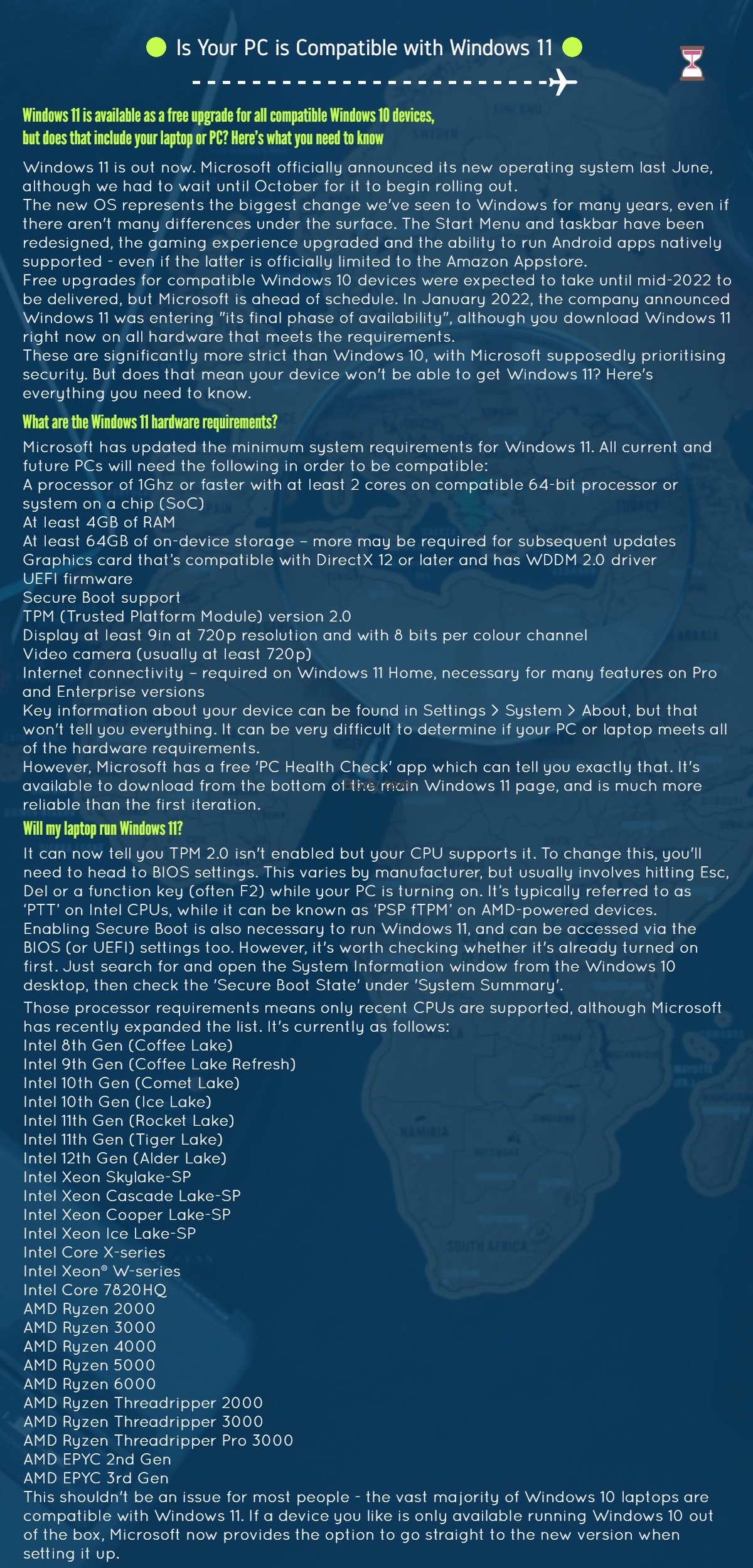 Your device must be running Windows 10 version 2004 or later to upgrade and Free updates are available through Windows Update in Settings>>Update and Security.
After testing with PC health checker, If it show everything is okay than you can proceed to install Windows 11 but If it display errors in result than you'll be able to identify the problem as in the mostly cases, you need to enable secure boot, TRM in UEFI or other Bios settings.
After fix all problems, test again with PC Health Checker and If its okay than you'll be able to proceed to Download and Install Windows 11 Home or Pro version Still but if the app still shows that your PC is not compatible, than we suggest you to wait until the next update as Microsoft has revealed that it'll update its hardware compatibility list very soon.
If you still want to install Windows 11 on your PC than I suggest you to try WhynotWindows11 or Windows 11 Compatible Check Tool to recheck Windows 11 Compatibility.
Windows 11 Downloading & Activation
Windows 11 has different versions as given bellow;
Windows 11 Home
Windows 11 Pro
Windows 11 Pro Education
Windows 11 Pro Workstation
Windows 11 latest release has come in June 23, 2022, so If your PC is compatible with Windows 11, than you can proceed for Downloading and Installing the latest build version and after successful installation, you can activate your Operating System using a License Key for specific version which can be bought from Microsoft official site on a regular price but wait…
we already bought it for you and now selling on discount rate, many other customer bought it from us and now they're happy. For more satisfaction, you can also Check Our Customer's Reviews on TrustPilot.
No matter, If you're an individual, company owner or reseller, ODosta Store is best choice for everyone to buy Microsoft Quality Products at the msot affordable prices.